Michigan Come Experience the Adventure With Us
Our members enjoy premier resort amenities and planned activities. Each resort offers something a little different, but you'll be sure to find nothing but the best resort and campground experience around. Plus, the Michigan communities our resorts are located in offer an endless variety of entertainment and activities just a short distance away.
The winter months offer skiing, both downhill and cross country, snowboarding, ice fishing, ice skating and snowmobiling for all ages. Snowshoeing through our hiking trails gives you an atmosphere of clean, crisp air and quiet serenity.
In the summer months, there is an abundance of local events, activities, and entertainment not far from your campsite.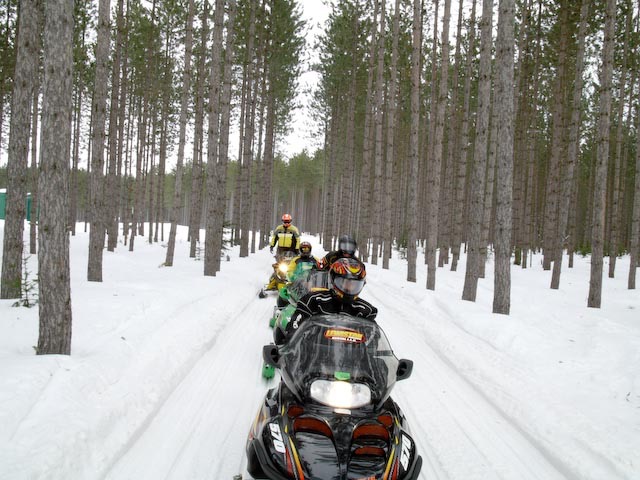 Snow Mobiling
Winter doesn't have to end your camping fun! Our Benjamin's Beaver Creek Resort located in the Snowbelt of Michigan offers the perfect wintertime getaway with access to Dynamic Sleds snowmobile rentals. Break out of the wintertime blues and book a snowmobiling getaway the whole family can enjoy!
Resort Activities
Holiday weeks include:
Memorial Day: 5/24/-5/31
Independence Day: 6/21-6/27 and 6/28-7/4
Labor Day: 8/30-9/6
Halloween: 9/20-9/26 and 9/27-10/3
Please be sure to visit our Adventure Out Safely page for our most current operations plan.
Craft & Vendor Shows
Craft & Vendor Show Rules and General Information:
Craft show vendors must be a member or Family Plan Individual of Outdoor Adventures; these craft & vendor shows are not open to the public.
You must sign up for craft and vendor shows by emailing activities@outdooradventuresinc.com. Craft show vendors are accepted on a first-come, first-serve basis. Space is limited.
Set-up must be complete 15 minutes before the craft and vendor show starts. No-shows will not be allowed to participate in future craft and vendor shows. If you arrive for set-up after the show has started, you will not be allowed to participate.
Individual areas must be kept neat and clean.
Arguing, or offensive behavior will not be tolerated and may result in loss of spot for future craft and vendor shows.
All items must be handmade by the exhibitor. No commercial kits, toys, merchandise, flea market items, or rummage sale items allowed.
No imports or factory mass-produced items will be permitted. No buy-sell. If Outdoor Adventures suspects that crafts are not personally crafted, return invitations will not be issued and you will be asked to leave the show. This will be strictly enforced to protect craft show vendors from unfair competition.
Wholesale clothing that you have stitched, embroidered, or hand-painted is allowed.
Craft show vendors must bring their own power cords/power strips and they must be concealed to prevent any trip hazards (electricity is limited and not guaranteed).
Craft show vendors must bring their own change, there will not be change available at the craft show.
You must stay set-up until the show is over. No early breakdowns or you will not be invited back. You must leave your area clean and dispose of trash yourself.
The flyer for the craft show can be found on this page, as well as on social media, and throughout our Resorts.
No items of any type are allowed to be sold from a campsite or cabin at any time. The purpose of our craft and vendor shows are for the enjoyment of purchasing unique artwork and crafts.
Please be sure to visit our Adventure Out Safely page for our most current operations plan.