The water crisis in Flint, Michigan, is finally getting the attention it deserves. Along with that attention comes federal and state funding, as well as the help of people far and wide. Celebrities from Michigan and those from far away have stepped forward to donate. Water companies have offered help. There is a lot we can do locally, too, and we wanted to bring some of those options to your attention.
Outdoor Adventures is holding a water drive from now through February 29, 2016. FILL THE RVs! Twelve of the RV dealers we work with have partnered with us to help drive water donations. You can drop off water at Lake Shore Resort (Davison), Mount Pleasant Resort, Saginaw Bay Resort (Standish), or our corporate office (Bay City). We'll then deliver the water to the United Way of Genesee County. To add in a little incentive for you to donate, for every four cases of water you donate, your name will be entered into a drawing to win a free 2-night stay in a cabin and dinner on us!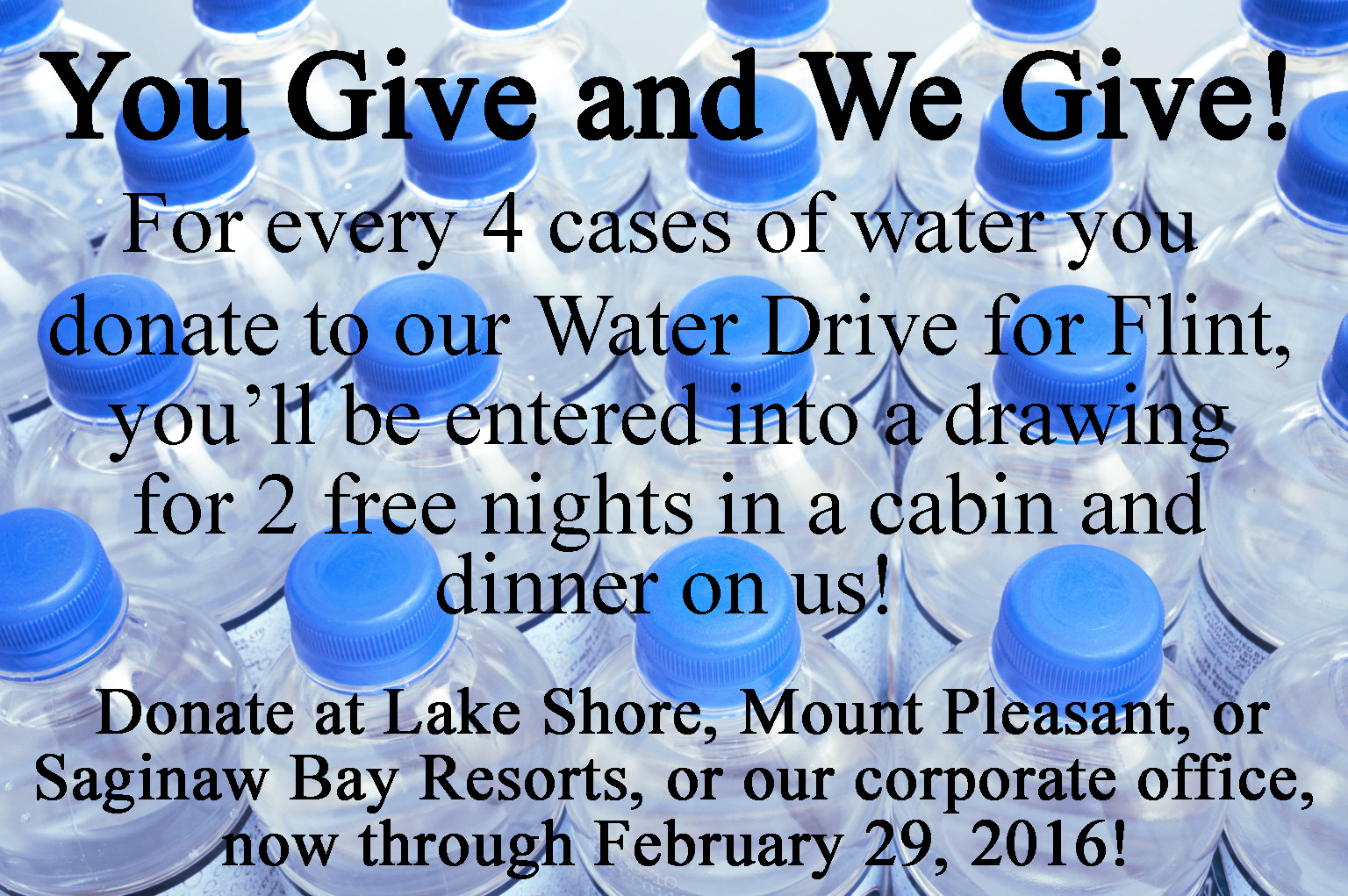 Thank you to the following RV dealers for working us to help the people of Flint!
A&B Camperland (http://www.abcamperlandinc.com/)
A&S RV Center (http://www.asrvcenter.com/)
Circle K RVs (http://www.circlekrvs.com/)
Dolney RV (http://www.dolneyrv.com/)
General RV – Birch Run (http://www.generalrv.com/)
Hamilton's RV (https://hamiltonsrv.com/)
International RV World – Bay City and Mount Pleasant (http://www.internationalrvworld.com/)
Midland RV (http://www.midland-rv.com/)
Phillips RV Center (http://www.phillipsrv.com/)
Tradewinds RV Center (https://tradewindsrvcenter.com/)
Tri City RV (http://www.tricityrv.com/)
If you don't live locally or would rather find a way to help other than donating water, please visit one of the following websites:
Community Foundation Greater Flint (https://www.cfgf.org/cfgf/GoodWork/FlintArea/WaterCrisis/tabid/855/Default.aspx)
Salvation Army of Genesee County (http://centralusa.salvationarmy.org/genesee)
United Way of Genesee County (http://www.unitedwaygenesee.org/)
Thank you to everyone who has donated, who will donate, and who is helping the people of Flint in any and every way!