This month we will be celebrating something that brings us all together; the calm of nature, gathered around the fire with those we love, sharing stories, and making memories. It's National Camping Month!
WHAT NATIONAL CAMPING MONTH MEANS TO US
National Camping Month means so much to us because camping is our expertise. It is our passion and we believe it's the best way to build strong family relationships and memories. We aim to be the most enjoyable camping experience you'll have in Michigan. And we make it our goal to provide the very best surroundings, amenities, and activities in a variety of locations to give you more time to focus on what's important, that quality family time!
We have a lot of fun things planned for this special month from giveaways, sharing camping tips & stories, and more! We're looking forward to celebrating with fellow camping lovers.
WHAT NATIONAL CAMPING MONTH MEANS TO OUR MEMBERS
To kick off this month, we asked our members to share what camping means to them. While most campers can agree on the best parts of camping (i.e. campfires, nature, relaxing), camping can mean something different to everyone!
Camping is time to slow down. Leave the everyday stresses at the gate. Light the fire burn some mallows. Get a little sun burn from relaxing too much.

– JJ C.
Family time, outdoors, making memories, campfire.

– Kitten S.
Family making memories!!

– Misty Persails
I love camping because it gives me special time with my sister. Campfires, crafting, movies, walks, etc.

– Sue B.
Getting to see friends that we normally only see once or twice a year. We spend time at camp and time on the lake fishing. We have a great time together and get to catch up.

– Gary S.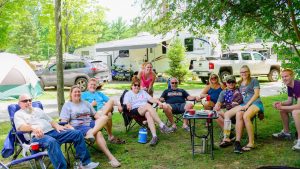 I don't think it can be better said than what my 12 year old son said last weekend – "I like camping because we do a lot as a family."

– Char D.
The celebration continues over on our social media pages, be sure you're following us on Facebook and Instagram.
Happy National Camping Month!