A new year is among us, which means it's time for new goals. If your new goals involve spending more time with the family, enjoying the great outdoors, camping year-round, or ditching traditional living for life on the road, then you've come to the right place! This year, we want to help you create lasting memories while spending more time with your family in the great outdoors, and with our Outdoor Adventures Bucket lists you will do just that! 
First up: Here is a road map for how to visit the 9 individual cities in Michigan where every Outdoor Adventures Resort is located in 2023! No matter where you live, this road map will help you travel with ease. This bucket list is perfect for avid campers, novice campers, and especially perfect for full-time campers who live on the road. Let's get started. 
First Stop: Mount Pleasant Resort  
Our first stop is our most central location: Mount Pleasant! Our Mount Pleasant Resort is a great starting point for your bucket list because it's located in the centermost part of Michigan, which makes it ideal no matter what direction you're coming from.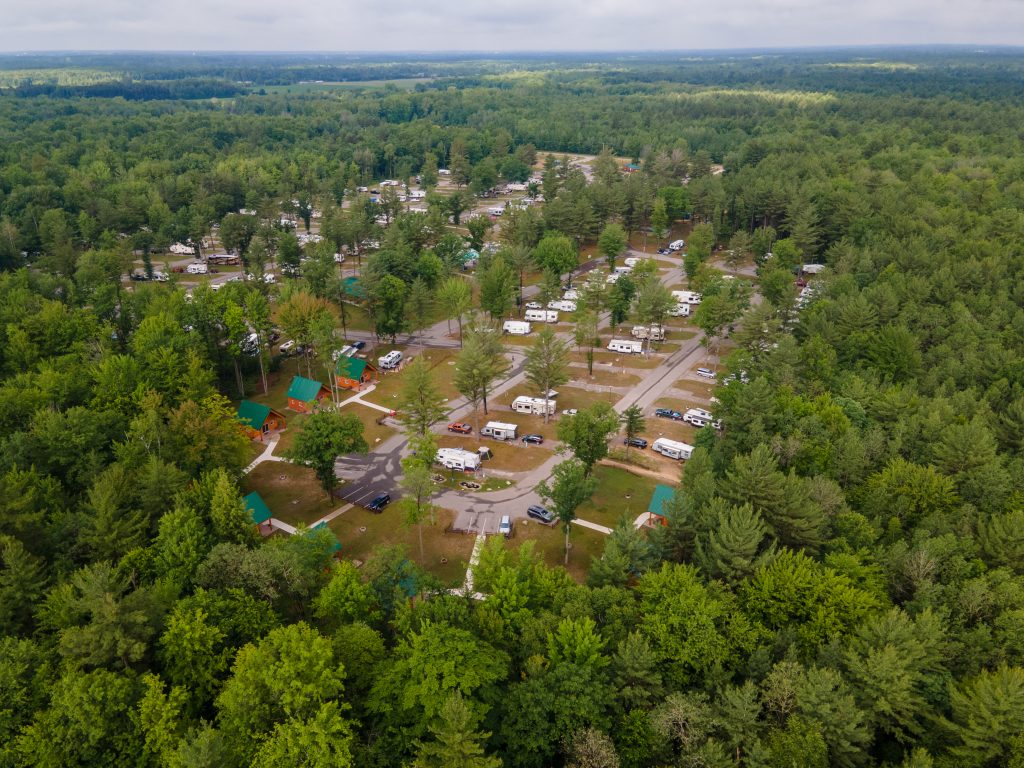 At our Mt. Pleasant resort, expect to find enough fun for the entire family! The same is true for the surrounding area. You'll never run out of things to do between the pool, putt-putt golf course, trails, and more! Check out the virtual tour to experience it for yourself! And that's just at the resort. In town expect to find Soaring Eagle Casino and Resort as well as tons of live entertainment. 
Next Up: Benjamin's Beaver Creek
From Mount Pleasant head north on US-127 to Gaylord, Michigan. This hour-and-a-half-long, but scenic, drive will take you right to Gaylord, Michigan where you will find Outdoor Adventures Benjamin's Beaver Creek Resort. From snowmobiling to golf and everything in between, Benjamin's Beaver Creek Resort has it all. And don't be afraid to experience it! The next stop on our bucket list will get you relaxed, recharged, and ready for more!
Next Up: Lake of the North Resort
When leaving Benjamin's Beaver Creek Resort, head south on I-75 to West Branch, Michigan where you will find Outdoor Adventures Lake of the North Resort. This hour-long drive will lead you to the beautiful Lake George in the heart of Michigan. Prepare to relax and enjoy the beautiful scenery as well as all the wonderful amenities Lake of the North has to offer. 
Please note that some of our resorts, including this one, are seasonal. Be sure to check the website to make sure the Resort is open before making your trek all over the state!
Next Stop: Rifle River & Wilderness Resorts
Say goodbye to hour-long drives for a while as you enjoy our next two resorts. When leaving Lake of the North Resort, take M76 North to Sterling. There you will find the beautiful and secluded Rifle River Resort. This full-service resort offers many conveniences and amenities while maintaining the rustic appeal of the great outdoors. 
A short ten-minute drive south will lead you to an even more serene location: Wilderness Resort in Omer. Here you can expect to get away from it all! Grab the family, grab the bikes, and reconnect with nature and those closest to you. 
Next Stop: Saginaw Bay Resort 
We hope you're nice and recharged after leaving Wilderness Resort because your next stop on your Outdoor Adventures bucket list is none other than our flagship resort, Saginaw Bay Resort! Head south on Husak Road and in no time, you'll reach the resort! At Saginaw Bay, expect to find enough fun for the entire family with indoor and outdoor heated pools, playgrounds, an adult lounge, and more! There's lots to explore and see in the virtual tour! Not too far from the resort try your luck at the Eagles Landing Casino just a 7-minute drive away!
Next Up: Lake Shore
Our next stop on our bucket list is a member favorite, and it's none other than the Lake Shore Resort. Getting there from Saginaw Bay is easy! From Sagatoo Rd, hop back on US-23S and head 42 minutes toward Birch Run. After that, you'll drive 27 minutes toward Mt. Morris where you'll soon reach the Lake Shore Resort. It's no surprise why Lake Shore is a member favorite. With putt-putt golf, a fun zone water park, a clubhouse, a game room, and a general store, this resort has it all! You'll definitely want to check out this resort's virtual tour! Soak up all the fun and be sure to get your rest because the next stop on our bucket lists will be the longest driving stretch of them all. 
Next Up: Kalamazoo
Gas up the camper, grab your snacks, and hit the road west to Kalamazoo to enjoy everything that our Outdoor Adventures Kalamazoo Resort has to offer! The drive in total should last roughly two and a half hours, but don't worry, there will be plenty to see! Stop off in our state's capital, Lansing, and view the capital building or the Michigan History Center. Hop back on I-69 West and I-94 West to Alamo Township and in no time you'll reach the Kalamazoo Resort. Its close proximity to Lake Michigan along with new updates and amenities make this resort everything you need to create a fun and relaxing vacation!
Final Stop: Grand Haven
The final stop on our Outdoor Adventures bucket list lands you right on the shore of Lake Michigan and it's none other than the Outdoor Adventures Grand Haven Resort. Take N 6th St and S 16th St to M-89 W/W Allegan St Otsego and from there follow M-89 W, M-40 N/Lincoln Rd, and US-31 N to 158th Ave in West Olive and you will have reached the Grand Haven Resort. The beauty you'd expect from this small town on the shore of Lake Michigan surrounds you whether you're in the resort or exploring downtown. Enjoy the clear, warm shallows of Lake Michigan, view picture-perfect lighthouses, bike over 100 miles of trails, walk the boardwalk, or take a trip to Michigan Adventures! We know you'll love your visit to Grand Haven, which makes it the perfect destination to end our bucket list! 
So what are you waiting for? Plan your Outdoor Adventures bucket list trip today! Not only will you experience everything our resorts have to offer, but you also have the opportunity to experience all that the great state of Michigan has to offer! If you are not an Outdoor Adventures member and would like to become one, stop in for a tour! We'd love for you to camp free for 7 days and nights! We guarantee you'll love being a part of the Outdoor Adventures community! Redeem your free visit today by visiting our website.
Don't delay! Join the Outdoor Adventures family today! 
Happy Camping, and check out our travel guide below! 🙂