Our Legacy of Improvements
At Outdoor Adventures, our goal is to give our members the best experiences possible to make those special memories with the ones they love. Memories that will last a lifetime! And we know that great experiences stem from our Resorts being updated and maintained for members to enjoy. That's why every year we consistently put work back into our Resorts to continue to improve our Members' experiences.
Below you can find a breakdown of some, but not all, of the impactful improvements we've made when it comes to the amenities, facilities, campsites, and fixed lodging at all of our Resorts. These are our legacy of improvements that will continue to happen for years to come!
$42,175,000+
Invested in our Resorts!
Replaced Wilderness Resorts playground with a brand-new modern playground
Replaced the pool liner in Saginaw Bay Resorts' outdoor pool
Sandblasted and painted the 300′ outdoor water slide at Benjamin's Beaver Creek Resort
Repainted the Benjamin's Beaver Creek water slide catch pool and deck
Added accessible swings at Lake Shore, Mt. Pleasant, Kalamazoo, Saginaw Bay, and Benjamin's Beaver Creek Resorts
Added a brand new bus at Rifle River Resort for transporting tubing and canoeing trips down the river
Added brand new tubes for trips down the river at Rifle River Resort that include backs and drink cupholders
Resurfaced the go-kart track and made mechanical updates to all go-karts at Grand Haven Resort
Added more access points across the entire Lake Shore Resort to improve WiFi
Updated all IT infrastructure across Kalamazoo Resort to improve WiFi
Added brand new beach area at the Benjamin's Beaver Creek pond
Adding brand new split rail fence at Saginaw Bay Resort
Built a brand new Resort Store and Game Room at Saginaw Bay Resort
Adding over 2,000 feet of new split rail fence at Lake Shore Resort
Replaced the flooring throughout the entire Dome at Lake Shore Resort, including the

common area, movie room, arcade, and fitness center

Gave the Saginaw Bay Resort Clubhouse bathrooms cosmetic updates
Resurfacing the indoor pool at Saginaw Bay Resort
Converted safari tent spots to campsites with water and 50 AMP hook-up at Kalamazoo Resort
Replaced the playground at Lake of the North Resort
Added a new RC track at Grand Haven Resort
Restored the 10-person sauna in the poolhouse of Benjamin's Beaver Creek Resort
Constructed a brand new 9-hole putt-putt course at Mt. Pleasant Resort
Installed a brand new propane fill station at Mt. Pleasant Resort
Replaced the pool liner of the South Shore pool at Lake Shore Resort
Updated the IT infrastructure at Kalamazoo Resort to improve Resort WiFi
Replaced Saginaw Bay Resorts Clubhouse playground with a brand-new modern playground
Upgraded campsites 1-30 to 50 AMP electrical hook-up at Benjamin's Beaver Creek Resort
Continued work on Kalamazoo Resort expansion with 76 brand-new, full hookup sites
Upgraded campsites 1-79 at Kalamazoo Resort to 50 AMP electrical hookup
Added delineators in all 9 of our Resorts' Storage Facilities to improve safety, organization, and efficiency
Constructed new split rail fence at Lake of the North Resort
Renovated the Movie Room in the Dome at Lake Shore Resort, including new carpet, new electrical, and a new projector screen
Added a new Security building at Grand Haven Resort
Constructed a brand new deck off of the Lake Shore Dome, including new patio furniture
Replaced all of the washers and dryers in Lake Shore Resort's laundry facilities, including a new servicing company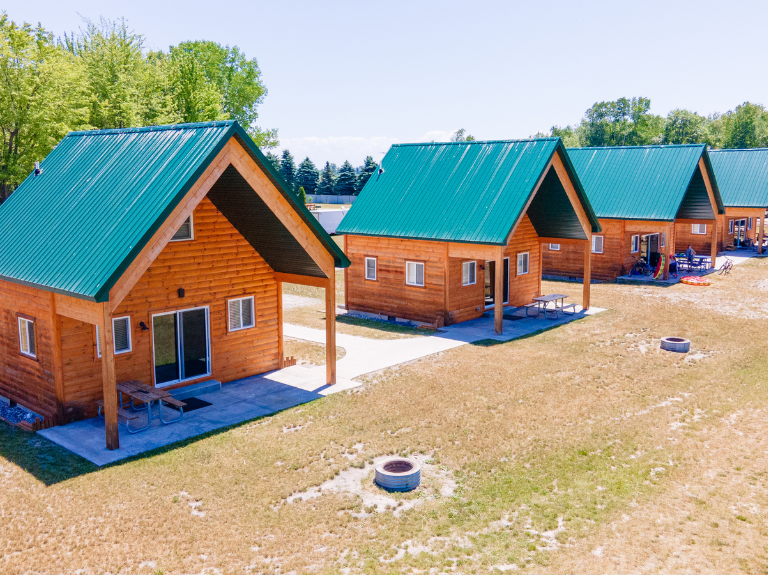 Replaced the furniture in all of Lake Shore, Saginaw Bay, and Mt. Pleasant Resorts fixed lodging with brand-new couches, dining sets, and chairs
Purchased a new carrier bus for Rifle River Resort to transport tubing and canoeing customers to and from Rifle River drop-off points
Purchased brand-new kayaks for Benjamin's Beaver Creek, Mt. Pleasant, Kalamazoo, and Lake Shore Resorts
Retiled the North Shore hot tub at Lake Shore Resort
Purchased brand-new pedal boats for Kalamazoo, Mt. Pleasant, and Lake Shore Resorts
Added a dog park at Lake Shore Resort including play equipment
Purchased brand new beach sunbrella covers to be enjoyed near water features at Lake Shore Resort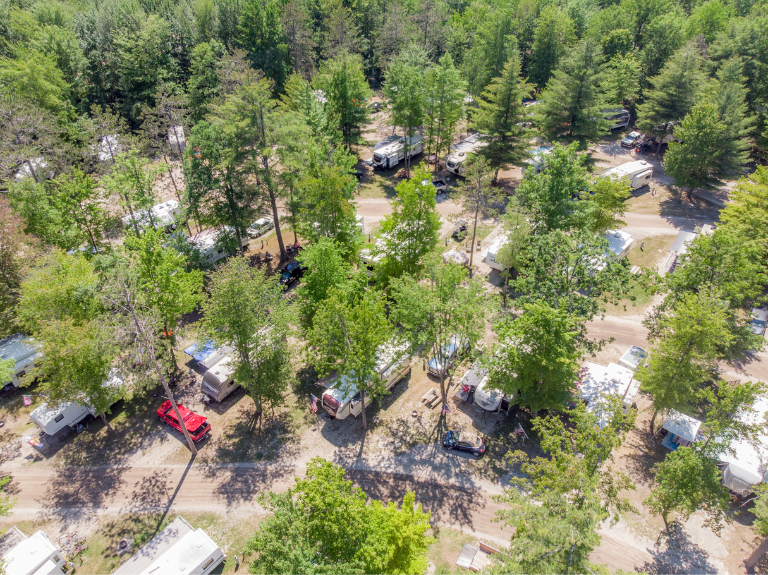 Constructed new septic fields at Grand Haven and Saginaw Bay Resorts
Upgraded campsites 1-38 at Saginaw Bay Resort to 50 AMP electrical hook-up
Remodeled the riverside bathhouse at Rifle River Resort
Gave the Go-Kart Barn at Grand Haven Resort a facelift with new siding
Remodeled the Resort Store at Kalamazoo Resort, featuring cosmetic updates
Added a brand new roof on the Game Room at Rifle River Resort
Gave the Resort Store a facelift at Grand Haven Resort
Put brand-new siding on the Dome at Lake Shore Resort
Put brand-new mattresses in the Fixed Lodging of all 9 Resorts
Put new roofs on 2 Park Models at Rifle River and Lake Shore Resorts
Installed brand new flooring in 2 Park Models at Wilderness Resort, 6 Park Models at Saginaw Bay Resort, and 15 Park Models at Lake Shore Resort
Gave 40 Park Models an outside facelift at Lake Shore Resort with new siding, soffit, fascia, skirting, and refreshed stairs and picnic tables with new paint
Transformed half a mile of the wooded area at Mt. Pleasant Resort into a serene Nature Trail for members to hike
Constructed the very first OAI train depot at Mt. Pleasant Resort to house three of our kid's trains
Constructed two brand new playgrounds at Kalamazoo and Lake Shore Resorts
Added a Honey Wagon at Benjamin's Beaver Creek to service members on non-sewer campsites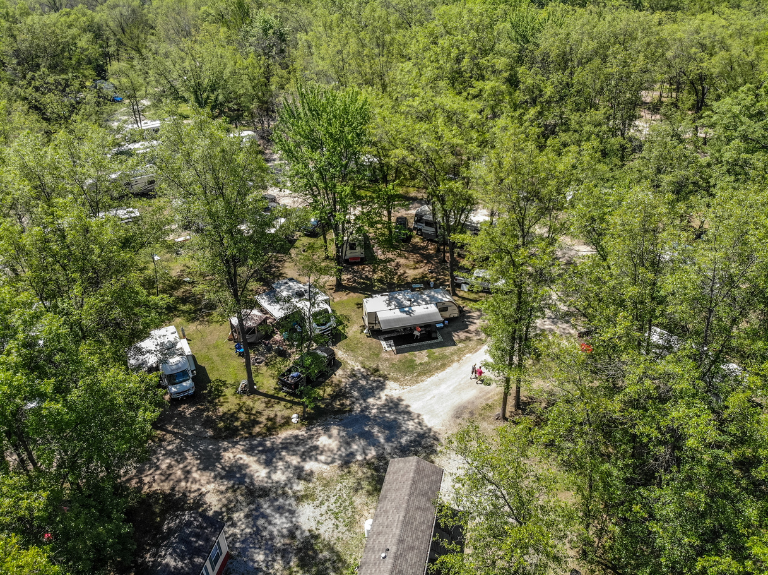 Cleared, trimmed, and beautified trees across the entire Wilderness Resort, and removed a number of trees to improve campsite safety and members' peace of mind
Upgraded campsites 77-105 at Kalamazoo Resort to 50 AMP electrical hook-up
Added brand-new electrical transformers and distribution panels at Kalamazoo Resort to improve the transfer of power to campsites
Upgraded campsites 39-57 at Saginaw Bay Resort to 50 AMP electrical hook-up and added brand new water spigots
Built a completely brand new, state-of-the-art $2 million poolhouse at Lake Shore Resort, including an indoor pool, a 20-person hot tub, and brand new bathrooms/changing rooms
Added a pool dehumidifier unit in the brand-new Lake Shore indoor poolhouse
Added brand new roofs on the Resort Store, Adult Lounge, Cul-de-sac Bathhouse, and Maintenance Garage at Saginaw Bay Resort
Gave the Saginaw Bay Fitness Center a facelift, including modern fixtures and updated equipment
Resurfaced the North Shore bridge at Lake Shore Resort to improve appearance and safety
Completely renovated and updated the ceiling in our iconic Dome shaped Clubhouse at Lake Shore Resort
Added a new Laredo Fifth Wheel travel trailer for rent at Lake of the North Resort
Built 10 brand new park models at Kalamazoo Resort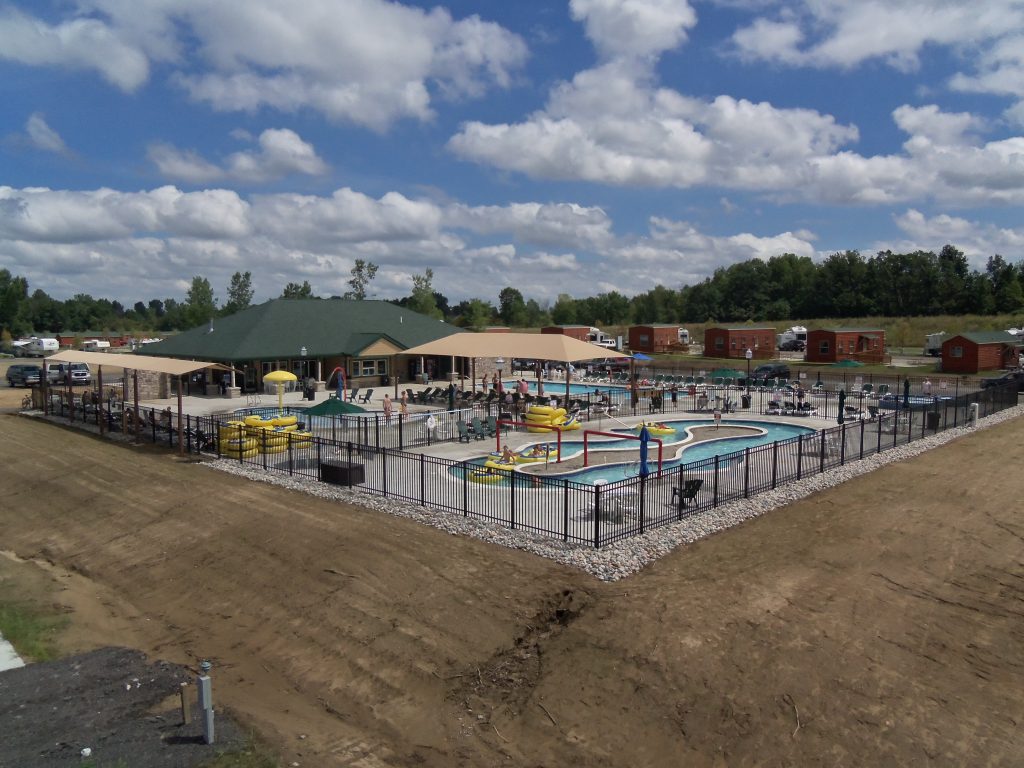 2019 Added a dog park at Mt. Pleasant Resort
2019 Improved the IT infrastructure at Mt. Pleasant Resort to increase the range and speed of Resort WiFi
2018 Paved the roads from the Irish Road entrance to the putt-putt course at Lake Shore Resort
2018 Resided the main entrance building at Kalamazoo Resort
2018 Added a sewage pump station at Grand Haven Resort
2018 Paved the front entrance road and parking lot at Kalamazoo Resort
2018 Remodeled the bathhouse on the hill at Kalamazoo Resort
2018 Remodeled bathhouses at Lake of the North Resort
2018 Remodeled Lake of the North Resort Store
2018 Remodeled Wilderness Resort bathhouse
2018 Replaced the roof on the Dome at Lake Shore Resort
2018 Built 10 brand new waterfront A-frames at Lake Shore Resort
2018 Built 10 brand new waterfront A-frames at Saginaw Bay Resort
2018 Remodeled the entrance A-frame at Kalamazoo Resort
2018 Replaced the roof on the Dome Clubhouse at Lake Shore Resort
2017 Remodeled the rental house at Grand Haven Resort
2017 Paved the roads of the entire Mt. Pleasant Resort
2016 Added an outdoor pool, hot tub, and attached bathhouse at Mt. Pleasant Resort
2016 Added 10 brand-new A-Frames at Mt. Pleasant Resort
2015 Added a Pavilion for member usage and events & activities at Mt. Pleasant Resort
2015 Remodeled the pavilion and game room at Rifle River Resort
2015 Campsite, road, and electrical improvements across the entire Mt. Pleasant Resort
2015 Remodeled the bathhouse near the Pavilion at Wilderness Resort
2015 Retiled the entire pool room in the Clubhouse at Saginaw Bay Resort
2012 Added an expansion onto the existing Grill at Lake Shore Resort
2012 Made road improvements across Saginaw Bay Resort
2012 Remodeled our pool bathhouse at Wilderness Resort
2011 Added a brand-new outdoor water park on the North Shore at Lake Shore Resort including a kid pool, lap pool, lazy river, and hot tub
2010 Added brand-new outdoor hot tub at Saginaw Bay Resort
Replaced Wilderness Resorts playground with a brand-new modern playground
Replaced the pool liner in Saginaw Bay Resorts' outdoor pool
Sandblasted and painted the 300′ outdoor water slide at Benjamin's Beaver Creek Resort
Repainted the Benjamin's Beaver Creek water slide catch pool and deck
Added accessible swings at Lake Shore, Mt. Pleasant, Kalamazoo, Saginaw Bay, and Benjamin's Beaver Creek Resorts
Added a brand new bus at Rifle River Resort for transporting tubing and canoeing trips down the river
Added brand new tubes for trips down the river at Rifle River Resort that include backs and drink cupholders
Resurfaced the go-kart track and made mechanical updates to all go-karts at Grand Haven Resort
Added more access points across the entire Lake Shore Resort to improve WiFi
Updated all IT infrastructure across Kalamazoo Resort to improve WiFi
Added brand new beach area at the Benjamin's Beaver Creek pond

Adding brand new split rail fence at Saginaw Bay Resort
Built a brand new Resort Store and Game Room at Saginaw Bay Resort
Adding over 2,000 feet of new split rail fence at Lake Shore Resort
Replaced the flooring throughout the entire Dome at Lake Shore Resort, including the

common area, movie room, arcade, and fitness center

Gave the Saginaw Bay Resort Clubhouse bathrooms cosmetic updates
Resurfacing the indoor pool at Saginaw Bay Resort

Converted safari tent spots to campsites with water and 50 AMP hook-up at Kalamazoo Resort

Replaced the playground at Lake of the North Resort
Added a new RC track at Grand Haven Resort
Restored the 10-person sauna in the poolhouse of Benjamin's Beaver Creek Resort
Constructed a brand new 9-hole putt-putt course at Mt. Pleasant Resort
Installed a brand new propane fill station at Mt. Pleasant Resort
Replaced the pool liner of the South Shore pool at Lake Shore Resort
Updated the IT infrastructure at Kalamazoo Resort to improve Resort WiFi
Replaced Saginaw Bay Resorts Clubhouse playground with a brand-new modern playground

Upgraded campsites 1-30 to 50 AMP electrical hook-up at Benjamin's Beaver Creek Resort
Continued work on Kalamazoo Resort expansion with 76 brand-new, full hookup sites
Upgraded campsites 1-79 at Kalamazoo Resort to 50 AMP electrical hookup

Added delineators in all 9 of our Resorts' Storage Facilities to improve safety, organization, and efficiency
Constructed new split rail fence at Lake of the North Resort
Renovated the Movie Room in the Dome at Lake Shore Resort, including new carpet, new electrical, and a new projector screen
Added a new Security building at Grand Haven Resort
Constructed a brand new deck off of the Lake Shore Dome, including new patio furniture
Replaced all of the washers and dryers in Lake Shore Resort's laundry facilities, including a new servicing company

Replaced the furniture in all of Lake Shore, Saginaw Bay, and Mt. Pleasant Resorts fixed lodging with brand-new couches, dining sets, and chairs

Purchased a new carrier bus for Rifle River Resort to transport tubing and canoeing customers to and from Rifle River drop-off points
Purchased brand-new kayaks for Benjamin's Beaver Creek, Mt. Pleasant, Kalamazoo, and Lake Shore Resorts
Retiled the North Shore hot tub at Lake Shore Resort
Purchased brand-new pedal boats for Kalamazoo, Mt. Pleasant, and Lake Shore Resorts
Added a dog park at Lake Shore Resort including play equipment
Purchased brand new beach sunbrella covers to be enjoyed near water features at Lake Shore Resort

Constructed new septic fields at Grand Haven and Saginaw Bay Resorts
Upgraded campsites 1-38 at Saginaw Bay Resort to 50 AMP electrical hook-up

Remodeled the riverside bathhouse at Rifle River Resort
Gave the Go-Kart Barn at Grand Haven Resort a facelift with new siding
Remodeled the Resort Store at Kalamazoo Resort, featuring cosmetic updates
Added a brand new roof on the Game Room at Rifle River Resort
Gave the Resort Store a facelift at Grand Haven Resort
Put brand-new siding on the Dome at Lake Shore Resort

Put brand-new mattresses in the Fixed Lodging of all 9 Resorts
Put new roofs on 2 Park Models at Rifle River and Lake Shore Resorts
Installed brand new flooring in 2 Park Models at Wilderness Resort, 6 Park Models at Saginaw Bay Resort, and 15 Park Models at Lake Shore Resort
Gave 40 Park Models an outside facelift at Lake Shore Resort with new siding, soffit, fascia, skirting, and refreshed stairs and picnic tables with new paint

Transformed half a mile of the wooded area at Mt. Pleasant Resort into a serene Nature Trail for members to hike
Constructed the very first OAI train depot at Mt. Pleasant Resort to house three of our kid's trains
Constructed two brand new playgrounds at Kalamazoo and Lake Shore Resorts
Added a Honey Wagon at Benjamin's Beaver Creek to service members on non-sewer campsites

Cleared, trimmed, and beautified trees across the entire Wilderness Resort, and removed a number of trees to improve campsite safety and members' peace of mind
Upgraded campsites 77-105 at Kalamazoo Resort to 50 AMP electrical hook-up
Added brand-new electrical transformers and distribution panels at Kalamazoo Resort to improve the transfer of power to campsites
Upgraded campsites 39-57 at Saginaw Bay Resort to 50 AMP electrical hook-up and added brand new water spigots

Built a completely brand new, state-of-the-art $2 million poolhouse at Lake Shore Resort, including an indoor pool, a 20-person hot tub, and brand new bathrooms/changing rooms
Added a pool dehumidifier unit in the brand-new Lake Shore indoor poolhouse
Added brand new roofs on the Resort Store, Adult Lounge, Cul-de-sac Bathhouse, and Maintenance Garage at Saginaw Bay Resort
Gave the Saginaw Bay Fitness Center a facelift, including modern fixtures and updated equipment
Resurfaced the North Shore bridge at Lake Shore Resort to improve appearance and safety
Completely renovated and updated the ceiling in our iconic Dome shaped Clubhouse at Lake Shore Resort

Added a new Laredo Fifth Wheel travel trailer for rent at Lake of the North Resort
Built 10 brand new park models at Kalamazoo Resort

2019 Added a dog park at Mt. Pleasant Resort

2019 Improved the IT infrastructure at Mt. Pleasant Resort to increase the range and speed of Resort WiFi

2018 Paved the roads from the Irish Road entrance to the putt-putt course at Lake Shore Resort

2018 Resided the main entrance building at Kalamazoo Resort

2018 Added a sewage pump station at Grand Haven Resort

2018 Paved the front entrance road and parking lot at Kalamazoo Resort

2018 Remodeled the bathhouse on the hill at Kalamazoo Resort

2018 Remodeled bathhouses at Lake of the North Resort

2018 Remodeled Lake of the North Resort Store

2018 Remodeled Wilderness Resort bathhouse

2018 Replaced the roof on the Dome at Lake Shore Resort

2018 Built 10 brand new waterfront A-frames at Lake Shore Resort

2018 Built 10 brand new waterfront A-frames at Saginaw Bay Resort

2018 Remodeled the entrance A-frame at Kalamazoo Resort

2018 Replaced the roof on the Dome Clubhouse at Lake Shore Resort

2017 Remodeled the rental house at Grand Haven Resort

2017 Paved the roads of the entire Mt. Pleasant Resort

2016 Added an outdoor pool, hot tub, and attached bathhouse at Mt. Pleasant Resort

2016 Added 10 brand-new A-Frames at Mt. Pleasant Resort

2015 Added a Pavilion for member usage and events & activities at Mt. Pleasant Resort

2015 Remodeled the pavilion and game room at Rifle River Resort

2015 Campsite, road, and electrical improvements across the entire Mt. Pleasant Resort

2015 Remodeled the bathhouse near the Pavilion at Wilderness Resort

2015 Retiled the entire pool room in the Clubhouse at Saginaw Bay Resort

2012 Added an expansion onto the existing Grill at Lake Shore Resort

2012 Made road improvements across Saginaw Bay Resort

2012 Remodeled our pool bathhouse at Wilderness Resort

2011 Added a brand-new outdoor water park on the North Shore at Lake Shore Resort including a kid pool, lap pool, lazy river, and hot tub

2010 Added brand-new outdoor hot tub at Saginaw Bay Resort