Fish at the Resort or Nearby
Inland Lakes Are A Great Place To Fish
You can fish on the lakes located in our resorts or find a place to fish that is just a stone's throw away from any of our resorts. Whether you are looking to fly fish in a quiet location on one of the rivers, fish for perch or walleye from your boat or ice shanty, hiring a charter boat to fish the great lakes for salmon we are close to everything, it's all nearby. What a great way to spend time with your family as you enjoy Outdoor Adventures and the local waterways!
Watersports (Some activities may not be available at all resorts)
Beach Areas (Public & Private)
Boating
Canoeing
Fishing
Hot Tub
Indoor/Outdoor Pools
Lazy River
Paddle Boats
Row Boats, Canoes, Kayaks
Sauna
Splash & Wading Pool
Tubing
Water Park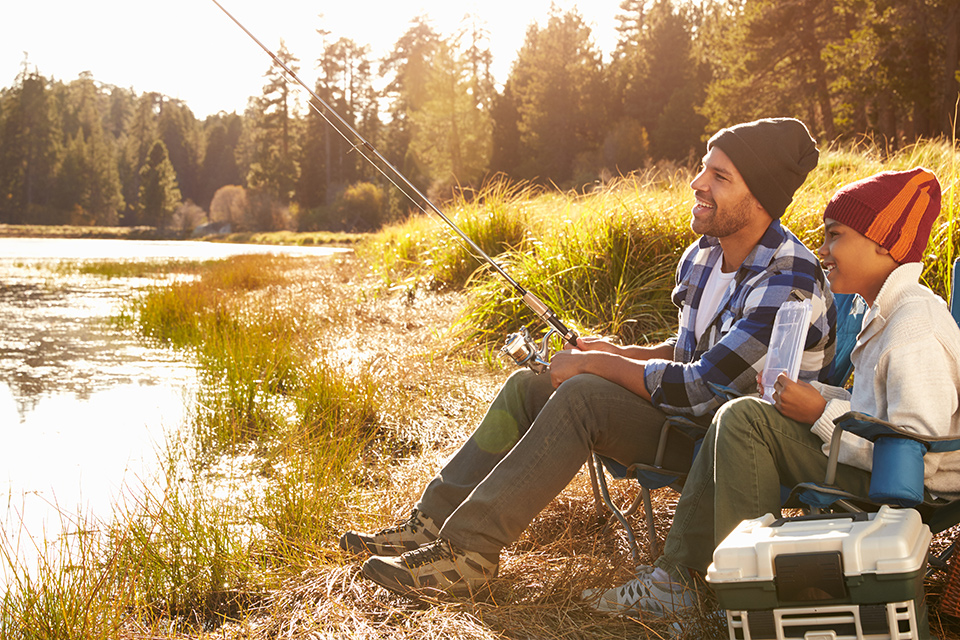 Fishing at Outdoor Adventures
The sport of fishing has been a long tradition passed down through generations. Many of our resorts are located on inland lakes and ponds where you can fish anytime.
Many of our resorts hold fishing contests and special fishing events like Father's Day Fishing.  Some of our resorts are open year round, where you can do some ice fishing.
Great Lakes Fishing Adventure
With the Great Lakes so close to us you have the advantage of boating and fishing on Lake Huron or Lake Michigan. What could be more thrilling than spending the day out on the water?
There are charter boats available close by to take you out to fish for salmon, or you could enjoy a quiet day on one of the nearby fly fishing.  Ask our staff about the fishing at our resort locations.