There is nothing like a Michigan fall, and we Michiganders will argue this with anyone! From the crisp cool air to the aroma of apple cider and pumpkin farms, a Michigan fall is heaven on earth to midwesterners, and a big part of this feeling stems from the beautiful fall colors. 
You may have heard it said that Michigan's best fall colors can be found in the upper peninsula, but we'd like to shine a light on the beauty that can be found in Michigan's lower peninsula. 
As you traverse the great state of Michigan this fall,  stop by these hidden gems to view vibrant autumn colors and get your fix on all things fall.
ANN ARBOR
Ann Arbor is known all over the world for its prestigious university, vibrant communities, and array of delicious foods! But something else Ann Arbor is known for is being a great location to view Michigan's fall colors! 
Round up the family, grab your bikes and venture to one of Ann Arbor's many trails, or take a stroll through the University of Michigan. You can't miss the array of reds, oranges, and yellows blooming from the Ann Arbor trees. 
Fun Fact: Ann Arbor is nicknamed Tree Town, so venturing there to get your fall color fix will not disappoint. 
KALAMAZOO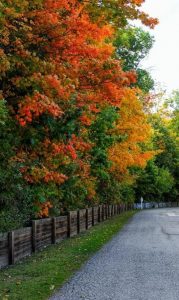 Recently named the coolest city to live in the U.S., Kalamazoo is a great place to venture this fall to see amazing colors that only Michigan could produce! Crimson red, golden yellow, burnt orange: you'll see it all while exploring Kalamazoo. Pair the beautiful colors with Kalamazoo's vibrant communities, great food, and an endless amount of things to do, and you'll soon learn why we feel Kalamazoo is definitely a hidden fall gem. 
If you're searching for something fun to do while exploring Kalamazoo, be sure to stop by the Outdoor Adventures Kalamazoo Resort for a tour! Expect to find campsites, rental units, a fishing pond, three lakes, a creek, wildlife, and more! You never have to leave the resort to view the vibrant reds, oranges, and yellows of a Kalamazoo fall. Click here to learn more about our resort!
STANDISH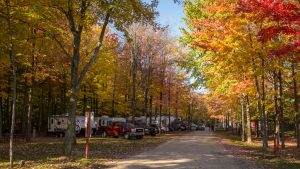 Located near Saginaw Bay is the beautiful city of Standish! The fall colors given off by the tress of Standish will certainly not disappoint. Although the city may seem small to outsiders, Standish is a frequent destination for many Michiganders because of the beautiful fall picture show, the Saganing Eagles Landing Casino, and the Outdoor Adventures Saginaw Bay Resort, which is open year-round to members!
Surrounded by the most beautiful crimson and orange trees come fall time, members never have to leave the Outdoor Adventures resort to take in the beauty of a Michigan fall. Grab your lawn chairs, start a fire, and relax right outside the comfort of your own camper or one of our rental units as you enjoy a beautiful fall sunset. You are also only minutes from golf courses, marinas and beaches, and factory outlet shopping. Check out all that the Outdoor Adventures Saginaw Bay resort has to offer here.
TRAVERSE CITY
Ranked the #1 lake beach town in the nation, Traverse City is a tourist's dream! As you drive along the Lake Michigan shoreline, you'll undoubtedly be captivated by Traverse City's orange, yellow, and crimson trees. On your excursion, be sure to stop by Sleeping Bear Dunes National Lakeshore, or one of Traverse City's many wineries. You will not be disappointed!
GAYLORD
Not too far from Traverse City, you will find Gaylord, Michigan. Although Gaylord is known for its abundant snowfall and many ski resorts, come fall time, this northern city transforms into a colorful canvas of crimson, yellow, green, and orange that would make even a home-body step outdoors. Gaylord's many wooded areas and low population allow for the fall colors to reign supreme. Deadman's Hill's overlook is considered a crown jewel in the city and a favorite location to hike as you view Gaylord's fall colors. 
If hiking is not your stitch, Gaylord is also known for its many golf courses, one located right inside the Outdoor Adventures Benjamin Beaver Creek Resort. If golf is not your thing, don't worry. There's plenty to do at Benjamin's Beaver Creek. Enjoy our indoor heated pool, hot tub, fitness center, clubhouse, or adult lounge. If the kids are along, we also have a game room. 
Benjamin Beaver Creek is a must-see this fall, and our Members would say the same. If you don't believe me, check out our first time visitor special for 7 nights of free camping here!
No matter where you venture this year to see your fall colors, we hope you will consider stopping by one of our lower peninsula gems. Fall comes and goes so quickly and if you ask any Michigander they will tell you that we take full advantage of this precious time outdoors. Make your fall travel bucket list and let us know which lower peninsula gems you knock off your list. 
Until next time, Happy Camping!
#campoai #michigancamping