Camping is one of the most relaxing getaway experiences you can have. Out in the beauty of nature, with the ones you love, living the simple life for a time being. But camping can come with some work, whether it's before or during. And if you're really wanting to enjoy your trip to its fullest, it helps to know all the tips and tricks to help make your experience the best and easiest it can be!
Our Outdoor Adventures members have time and time again proven to be camping pros, with a lot of great tips and tricks to help make your camping experience as relaxing and great as it can be! Check out all the tips below from our very own members.
Food Tips
Meal planning can be one of the most taxing parts of camping, and with limited space and resources, it can add stress to your trip. Not to mention, if not planned efficiently, can cost you a lot of money. Heather G. says "Pre-make meals; I just did this over the weekend. Made a bunch of freezer meals so all I'll have to do is throw in the oven or smoker, no prep, shopping or waste of money. Meal prepping for 6 has always been a struggle for me especially when camping & not spending a ton of money." We love this tip because it allows you to do all the work ahead of time, leaving your trip how it should be, relaxing, and stress-free!
On the topic of ease while cooking during camping, Denise C. says,
"I'd say the best thing I've always had camping is my electric frypan. When we were tent camping, we used it to heat up the water to do the dishes, then used it as the dishpan. Of course this was before they made electric tea kettles. I also keep the crockpot in the trailer, which makes mealtime easier when you want to be outside." Kitchen tools like electric frying pans, electric kettles, slow cookers, etc. can provide a lot of ease while cooking since they're multi-use tools. This is important while camping when you're working with limited space!
Roxanna C. gives a food shopping tip that allows you to only take a drive around the area you're camping, but also support businesses in that area! "I usually don't pack a lot of food. When I get my trailer on-site, I turn on the fridge and then go to the grocery store. At the Lake Shore Resort, we sometimes set up a pickup order for the day we are arriving. At other campgrounds, it gives us a chance to do some sightseeing on the way." Camping is all about experiences, so it can be fun to get out in the local community.
Campfire Tips
What is camping without a campfire?! Nothing brings out the essence of camping more than sitting around a warm fire. But what's the easiest way to make a campfire? How do you ensure you're not left frantically figuring out your campfire situation?
Christina W. says, "I love my Girl Scout fire starters. I take a cardboard egg carton and fill it with dryer lint. I then pour melted candle wax over it. When using, I just break off one egg piece and put it in the fire ring with wood." This is another item you can prep at home before your trip, to help reduce the worry of getting that perfect fire started.
Another fire task that is easily forgotten is firewood! Paul B. reminds you to, "Take enough firewood to last your stay!" There's nothing worse than running out of firewood halfway through your trip.
On the topic of firewood, Mike L. recommends a tool to help with splitting firewood, "Kindling Cracker. The best tool for camping. I love mine." It never hurts to have tools on hand that will make your camping tasks easier!
Organization Tips
Whether you have a large family, are a couple, or a single camper, organization can be a struggle! It's easy for the necessary items to clutter up your small space and cause some unwanted angst during your stay.
Erica G. camps with a large family, and recommends: "A shoe organizer on the outside. Hangs with the sticky removable hooks by the door. So no tripping over shoes inside camper or outside." This is such an easy install that will allow you to keep that pile of shoes where they belong!
Kevin M. also recommends a door shoe rack, but for more than just shoes. "An over-the-door shoe rack makes a great storage device for many things, not just shoes." Whether for snack storage, tools, crafts, and more, it's definitely a multi-use tool great for the small spaces you're working with while camping.
Camping Experiences Tips
With all this prep and planning for your camping trip, it can be easy to forget why you're doing all of this! F.W. reminds you to, "Take your time, be thoughtful of the other campers, be safe and just enjoy the experience." It's important to remember the joy you get out of camping, and why it makes all of this worth it!
Many times campers think they're limited in the time they have to camp and try to fit all that fun into the handful of months you may have of warm weather. Wally A., an avid winter camper, shows us the beauty you are missing out on if you're not winter camping.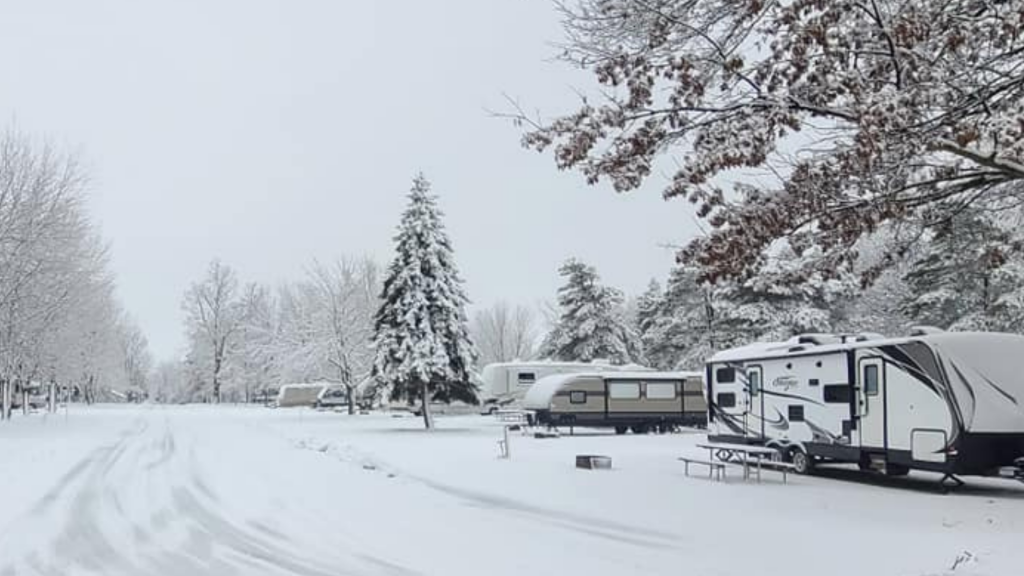 "I love camping this time of the year."
And what's camping without making some friends! Raymond M. reminds you to, "Say hello to your neighbors." You already know you both have something in common: you love camping. So why not see if they're your new camping buddies.
As you've just read, there's a lot that goes into camping. Whether you're an experienced camper or brand new to the camping world, there's always something new you can learn. Happy camping!