For many, fitness is a major part of their lives and everyday routines. And no, we don't mean lifting a beer from the table to your mouth. 😂 It doesn't take running a marathon or doing HIIT workouts to be fit. Fitness can be doing anything to increase your heart rate for an extended period of time. And going camping shouldn't mean having to sacrifice your ability to get a workout in!
Working Out in your RV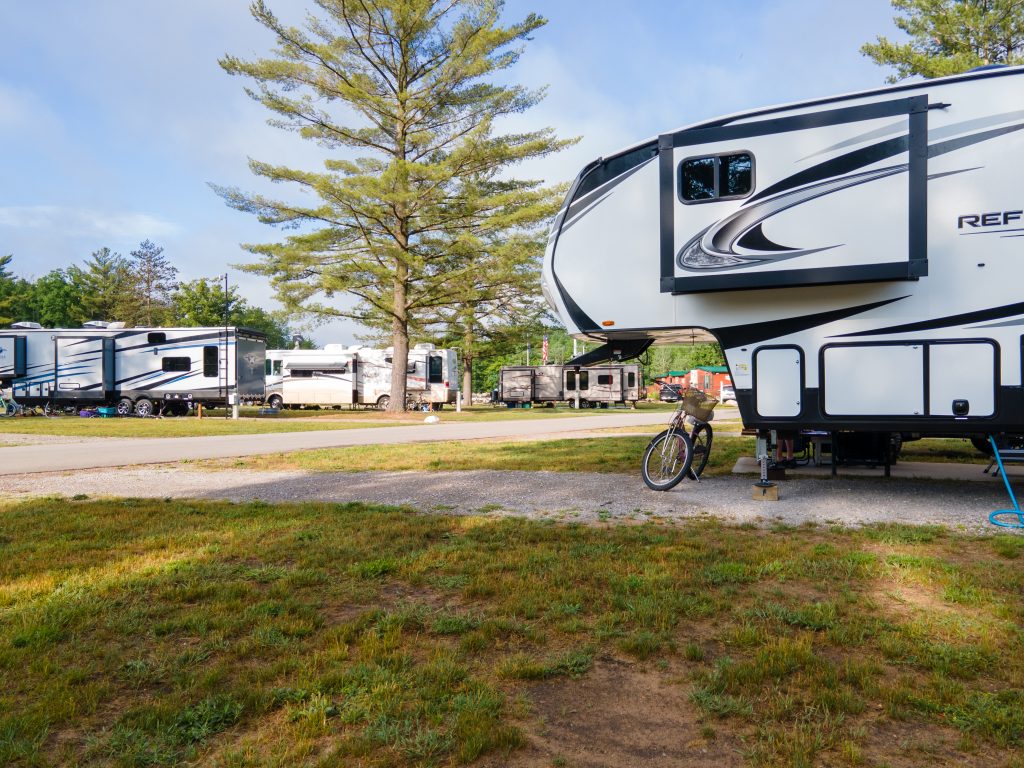 When there are no fitness areas to access, or maybe the weather is not permitting for an outdoor workout, you can always work out in your RV! We know working out in your RV can seem like a challenge. You're in a small space, you have limited equipment that can fit in your unit, it can feel nearly impossible. Don't give up just yet! While working out in an RV will mean tailoring your workouts and equipment for the space you're in, it's still a completely feasible option. Check out this article from RVshare about great indoor-RV exercise ideas, how-to's, equipment options and more!
Body Weight Circuits
You can use your campsite or any patch of open grass to do a bodyweight circuit if you're looking to get moving. Check out this video for a quick 30-minute circuit to follow, right from your campsite!
Play Ball
Workouts don't always have to feel like workouts. Playing basketball, volleyball, shuffleboard, ring toss, or a plethora of other outdoor games can be a great workout and get your body moving. And if no one is using the court, you can even do sprints or other exercises on the court!
Outdoor Adventures resorts are chock full of opportunities to participate in these activities! Camp 7 nights for free and check out one of our resorts!
Stand-Up Paddleboarding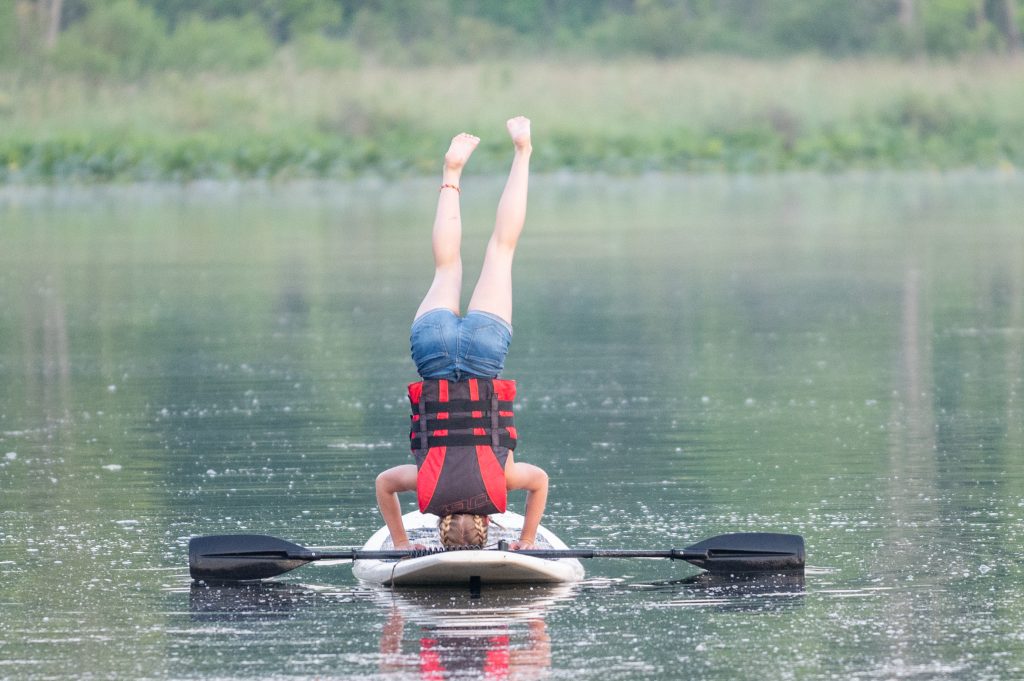 Stand-Up paddleboarding (SUP) is an amazing full-body exercise that also doesn't feel like a workout. Some fitness enthusiasts call it "hiking on water" and is a great choice for anyone looking to add some variety to their workouts. Plus, you get to enjoy being outside!
Biking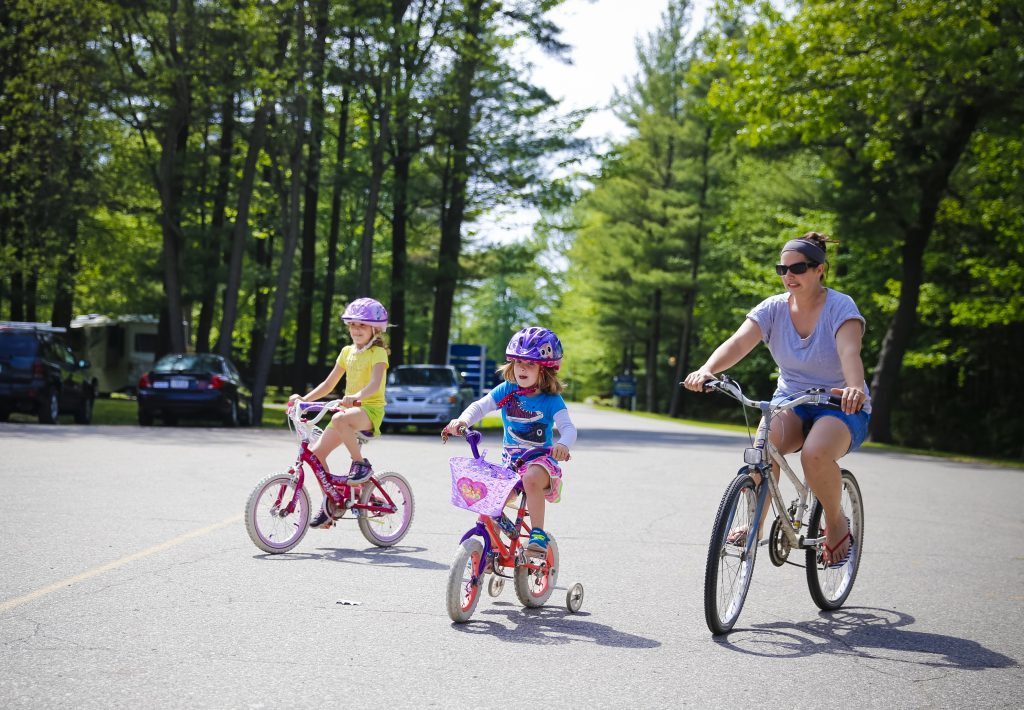 If you're like many, you probably brought your bike along with you while camping to make getting around the campground quick and easy! Don't miss the opportunity to utilize your convenient mode of transportation as a workout tool. Biking is a very common activity to help get some exercise in. So while you're biking to the Camp Store, or even to the Restroom, maybe take the long way to help get some extra movement in!
And if you're really looking for a workout, take that bike to the trails to get a more intensive workout in!
Pools
Swimming is a great workout option, and can be a lot easier on the body! Read this article from Very Well Fit to learn more about swimming for exercise, and simple swimming workouts to start.
Hiking Trails
If you're more of an outdoors exercise enthusiast (I mean, if you love camping, you likely love an outdoor workout too) hiking may be the workout option for you! Try trail running for a more intense workout or enjoy your surroundings while taking a slower-paced walk while still reaping the benefits of moving your body. So fill up your water bottle, pack an energy bar and break a sweat out in nature!
Working Out at Outdoor Adventures
Our Resorts have many options to help you continue your fitness journey while you're enjoying your camping trips with us. As an Outdoor Adventures member, you have access to fitness centers, indoor and outdoor pools, hiking and biking trails, volleyball and basketball courts, paddle boarding, and more to keep up your fitness routine! If you're not a member YET, check out our offer for free camping here.
Our Fitness Centers
We have fitness centers located at our Lake Shore, Saginaw Bay, and Benjamin's Beaver Creek Resorts. All offer a wide variety of workout equipment for you to utilize during your stay with us! And remember, you don't have to have a reservation to utilize Resort facilities. As a member, you're able to visit all Resorts for day use. That means if you're nearby and need a place to get a workout in, you can stop by!
With all these options we hope you're able to continue your fitness journey even while camping! Think about giving each of these a try* to find which one works best for you or is your favorite. And of course, if you're ever getting a workout in at Outdoor Adventures, be sure to share on social media using #campoai to motivate and inspire your fellow campers to get active while camping!
*The material within this blog post is provided solely for general informational purposes and is not expert advice. We do not endorse any specific fitness routines or products. Use of this program, advice and information contained herein is at the sole choice and risk of the reader. Always consult your physician or healthcare provider before beginning any nutrition or exercise program. If you choose to use this information without prior consent of your physician, you are agreeing to accept full responsibility for your decisions.