Now that you've gotten to know about each of our seven resorts, let's talk about the fun you can have at Outdoor Adventures!
Water Fun!
Paddle boats, kayaks, row boats, swimming, fishing (on your own or in one of our tournaments), pools, hot tubs, a lazy river, a kiddie/wading pool, tubing, and canoeing… we've got you covered! Grab your friends and head to the water!
Sports!
Show off your basketball, volleyball, tennis, horseshoes, shuffleboard, or putt-putt skills! Nobody says sports are just for kids! Show 'em what you've got! And then relax your muscles in a hot tub or pool or fireside.
Games!
Check out our game rooms! You can play pool,  air hockey, or video games. The comforts of home, along with some old school games, are calling your name! The game rooms come in especially on rainy days.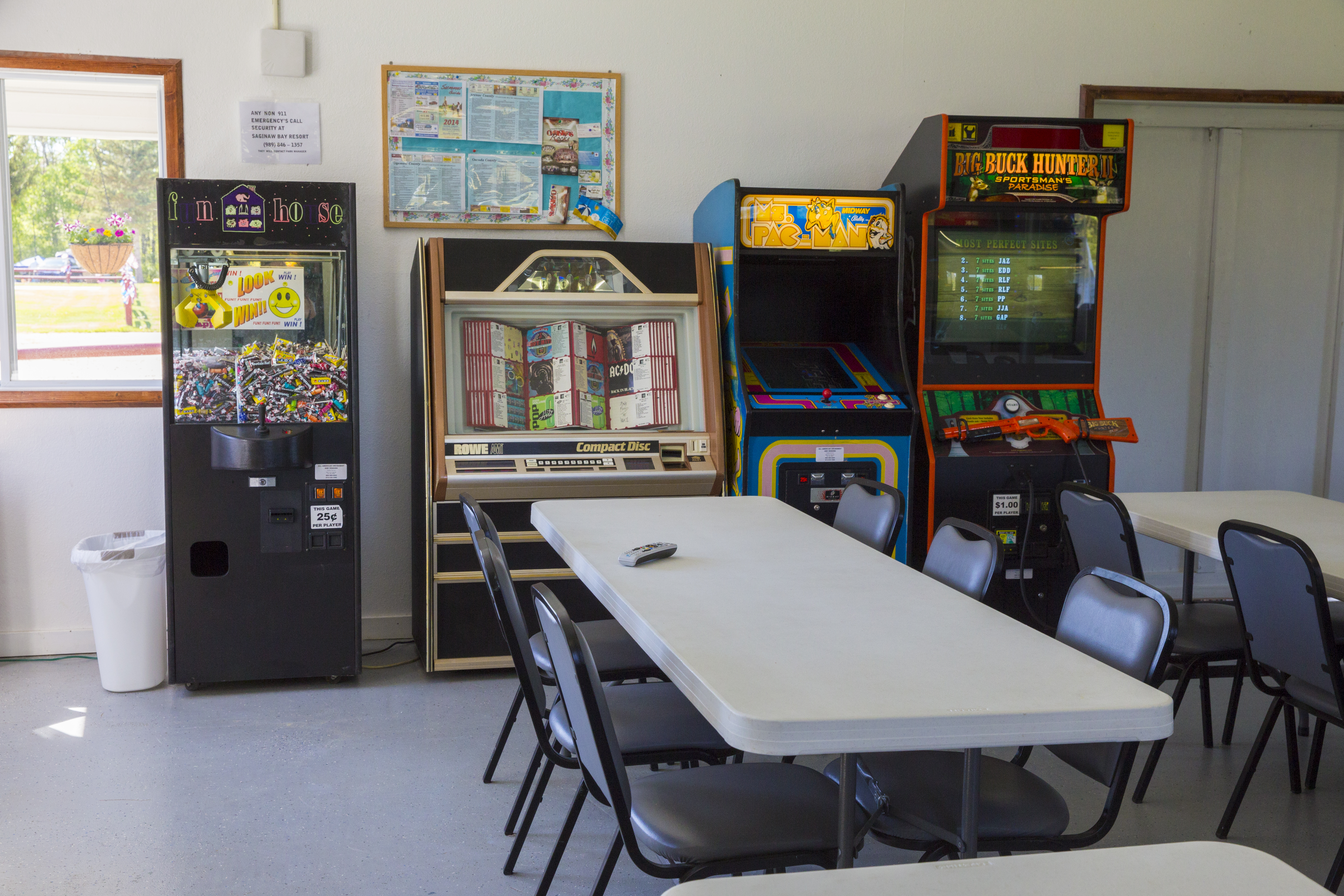 Meet your Neighbors!
Join us for community bonfires, S'mores nights, hot dog roasts, and more, and get to know your "camping family."
Playgrounds!
Each of our resorts has a playground, giving kids of all ages the chance to run around, make new friends, and burn off some energy! Check them out the next time you're at one of our resorts. Mount Pleasant Resort's is particularly unique, with large wooden vehicles to play on. Join in the fun!
Healthy Fun!
Stop in to one of our fitness centers or hit the hiking/nature trails and you'll be on your way to a healthier you! Who says exercise can't be fun?!
Wheeled Rides!
Grand Haven has a fun train that takes rides around the resort. You get a great view of the whole resort this way! Each resort has hayrides available for anyone who is up for a ride. Go carts at Grand Haven are bound to lead to a run afternoon (and some carts even have room for two riders so younger kids can enjoy the fun)!
(Planned) Activities!
Each resort has an Activities staff that works hard to plan fun things for you to do! Dances, karaoke, crafts, games, tie-dye, Wii tournaments, water aerobics, holiday dinners, Hawaiian dancers, horse-drawn wagon rides, petting farms, exotic animals, bounce houses, obstacle courses, Olympic challenges, craft shows, auctions, and more await you all season long during our theme weeks! Check out the activities schedule on our website for details. Download the schedule of theme weeks for even more info!
Holiday Fun!
Holidays bring even more fun to Outdoor Adventures' resorts! Memorial Day usually means bike parades, golf cart decorating contests, cookouts, and music. Independence Day means huge fireworks displays at Lake Shore and Saginaw Bay resorts. Labor Day means live entertainment, golf cart parades, ice cream socials, and more. Halloween is an exciting time at the resorts, and we celebrate it the first Saturday in October. Trick-or-treating, haunted trails, spooky and fun guests, and lots of games and crafts are usually on the agenda. Be sure to come see us on these special days!
Check out each resort's page on our website to see what specific activities and amenities are available at the specific resort!
The next time the kids say "I'm bored", jump in the car and head to the nearest resort. There's bound to be stuff to keep them busy!