A little snow doesn't have to stop the fun! There are tons of activities the entire family can enjoy as you camp this winter. So, load up the family, bundle up, and let's dive into all the fun you and your family can have this winter!
#1: Sledding
What's winter without at least one sledding excursion?! Sledding is a right of passage for children and a sense of nostalgia for most adults. What we love about sledding is that this winter past-time favorite is inexpensive and not difficult to accomplish at all. Grab your sled, find a snowy hill, and voila! You are ready! 
#2: Snowmobiling
What do you get when you combine skis with vehicles? You guessed it! You get what we've grown to know as the snowmobile! Snowmobiling has been around since the early 1900s and has grown to become not only a favorite winter activity, but also a competitive sport! Although this activity is much safer for older youth and adults, don't rule out the younger kiddos just yet! With the right equipment such as a carriage, trailer, or sled, the little ones can enjoy the fun of snowmobiling as well.
If you're eager to try snowmobiling, book your reservation today at Outdoor Adventures Benjamin's Beaver Creek Resort where snowmobiles are available to rent for all members! Check out our video about snowmobiling and winter camping at Benjamin's Beaver Creek Resort. Not a member yet? Visit our website now to stay free for 7 nights! Tour our facilities, meet our staff and see why members love calling Outdoor Adventures their home away from home!
#3: Ice Hockey
Another family winter favorite activity is none other than hockey! Have you ever dreamed of playing hockey since watching the classic movie "The Mighty Ducks"? Well, now is your chance! Hockey is one of Michigan's most popular sports, and for obvious reasons! While some states have to manufacture snow and ice, Michigan usually has an abundant amount. 
If playing hockey outdoors, be sure to use the same safety precautions that you would indoors to avoid injuries. Also, be sure to skate on thick ice that has no open water patches. We recommend avoiding staking on ice that covers deep bodies of water such as lakes and ponds.
#4: Ice Fishing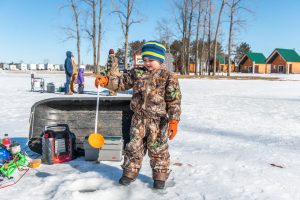 Fishing season doesn't have to be over just because of the ice. Ice fishing is another favorite pastime for those who love the wintery outdoors, and it's an activity the entire family can enjoy! What we love about ice fishing is that fish are usually easier to catch because their food options are lower. Ice fishing is also a great bonding experience because of the patience it requires. So grab the radio, grab the grill and enjoy family time as you catch what could be your dinner for the night! Like Ice Hockey, definitely take safety precautions when ice fishing. The thicker the ice the better! Generally speaking, ice is safe when it's 4 inches thick, but be sure to check with your state or local agency for ice safety conditions and assessments before venturing onto the ice.

#5: Winter Festivals
Gatherings don't stop in Michigan just because of the snow. In fact, we create more reasons to gather, and winter festivals are a big reason! Ice carvings, carriage rides, snow sculptures, fireworks, live entertainment, and more! If you've never been to a winter festival then you're missing out! A few popular festivals in Michigan are Zehnder's Snowfest in Frankenmuth, the World of Winter in Grand Rapids, Alpenfrost in Gaylord, and more! 
Want to know the best part? No matter where you decide to enjoy a winter festival in Michigan, you'll find an Outdoor Adventures Resort not too far away. Experience Zehnder's Snowfest in Frankenmuth during your stay at Outdoor Adventures Lake Shore Resort which is just 30 minutes away! Don't feel like leaving the resort? No Need! Our Lake Shore Resort hosts their very own annual Winterfest. You don't want to miss the and will include snowmobile rides (Saginaw Bay only), ice skating, sledding, snowman building, snow fort making, hot dogs, hot chocolate, a bonfire and MORE! Check out our activity calendars for more information.
If you've never experienced winter camping, you're not only missing out on great times to continue bonding with your family, but you're also missing out on tons of fun that only the winter brings! Experience winter camping today as a member of Outdoor Adventures! Our resorts are open year-round and you never have to leave the resort to soak up all the fun that winter camping has to offer! So what are you waiting for? Try Outdoor Adventures today for 7 nights free! You won't be disappointed!